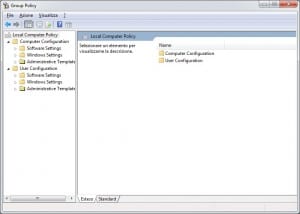 Vi è capitato di dover cambiare le policy di default in Windows 7? Nella versione PROFESSIONAL c'è l'utility originale, nella versione STARTER (quella dei netbook), nella versione HOME BASIC (non distribuita in Italia ma solo nei mercati emergenti) e nella versione HOME PREMIUM (la maggior parte dei computer casalinghi) non esiste questa utility, non è pensato per fare queste modifiche (da parte di Microsoft).
Per aggirare questo problema potete installare questo programma gratuito:
add_gpedit_msc_by_jwils876-d3kh6vm
Questa utility ci permetterà poi di andare a controllare alcune informazioni sul sistema, più specificatamente ci permette di IMPOSTARE le REGOLE DI GRUPPO, le regole di sicurezza del sistema e ciò che gli utenti possono fare e non possono fare.
Qui c'è la spiegazione inglese, passo passo, per impostare l'AUDIT sulle DIRECTORY del PC
I suggest you enable Audit on your computer.
To do it:
1. Click Start, enter GPedit.msc in the Start Search box.
2. Open the following branch.
Computer Configuration\Windows Settings\Security Settings\Local Policies\Audit Security
3. Enable the following policy:
Audit object access
4. Open Windows Explorer, open the folder C:\Windows.
5. Right click the folder SysWOW64, choose Properties->Security. Click the Advanced button.
6. Click the Auditing tab. Click Continue.
7. Click Add. Then click Advanced.
8. Click the button Find Now.
9. Wait for the process finishes. Then from the users list add the following users.
BATCH
CREATOR OWNER
Everyone
Guests
LOCAL SERVICE
NETWORK
NETWORK SERVICE
SERVICE
SYSTEM
10. After selecting each user, choose Full Control.
If you would like to check which application was trying to open this folder, please open Event Viewer, check the Windows Logs\Security Log for detail information.
Source Link : http://social.technet.microsoft.com/Forums/en-IE/w7itprogeneral/thread/4353964e-d249-45ad-b47f-ae4bd30f43a1
Original download URL for FREE to distribute utility
http://drudger.deviantart.com/art/Add-GPEDIT-msc-215792914